We know your laptop storage isn't enough to store all your movies, music, documents and files. That's why you need the Samsung T5 250 GB SSD. With this lightweight and sleek SSD, you can store all your multimedia files without worrying about running out of storage space.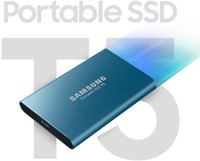 Fast Read/Write Speeds
You can transfer files from your system to this SSD or vice versa with a speed of up to 540MB/s.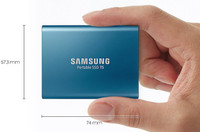 Compact and Lightweight
This SSD weighs just about 51 grams and is as compact as a business card which makes it the perfect travel companion.

V-NAND Technology
Thanks to Samsung's V-NAND technology, it has everything you need in your hands.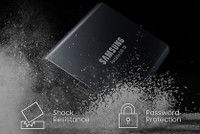 Protection
Crafted from a strong metal body, an internal support frame and an optional AES 256-bit hardware encryption, this SSD is shock resistant. Store all your confidential files without worrying as it is password protected.
Easy Connection
Whether you have a Mac laptop, an Android device or a Windows desktop, this SSD is compatible with multiple operating systems so you can connect easily. Thanks to Samsung's Portable SSD Android application, USB 3.1 Type-C connection and the USB Type A cable, it allows you to manage and access content easily.