Project high-resolution images and presentations in nearly any environment with the BenQ LU710 4000-Lumen WUXGA Laser DLP Projector. Its 4000 lumens of brightness overcomes ambient light in many situations, while its dynamic contrast ratio helps keep images and text clear and distinct. Its 1.13 to 1.46:1 throw ratio and 1.3x zoom provide a range of installation options.
The LU710 has component video, composite video, VGA, and two HDMI inputs to support both analog and digital video sources. Its VGA output allows you to daisy-chain multiple projectors or displays to show the same video source, and the 1/8″ audio output to connect external speakers. It is controllable via Ethernet or RS-232 and includes a remote control.
BenQ LU710 – WUXGA Corporate Laser Projector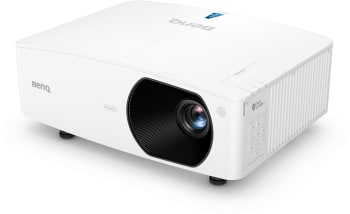 Laser Projector
Brightness: 4,000 Lumens
Contrast ratio: 3,000,000:1
Native resolution: 1920 x 1200 pixels, 16:10
Light source Life: 20,000 hours
Leveraging the industry-leading BlueCore laser technology. BenQ's LU710 superior conference room projector is capable of projecting the best quality images during corporate meetings. LU710 features a 92% Rec.709 color coverage, high precision lens, and certified IP5X dustproof mechanism to guarantee an ultra-high level of image quality while reducing maintenance costs. To meet the high demand for efficiency and convenience during corporate meetings, LU710 can be paired up with optional wireless devices. By equipping it with LAN control capability, LU710 also further enhances the convenience in device management for corporate IT managers.
Revolutionary BlueCore Laser Technology
The world's No. 1 DLP brand BenQ introduces its full line of innovative corporate BlueCore laser projectors with LU710, unleashing the WUXGA resolution for professional presentation in corporate settings.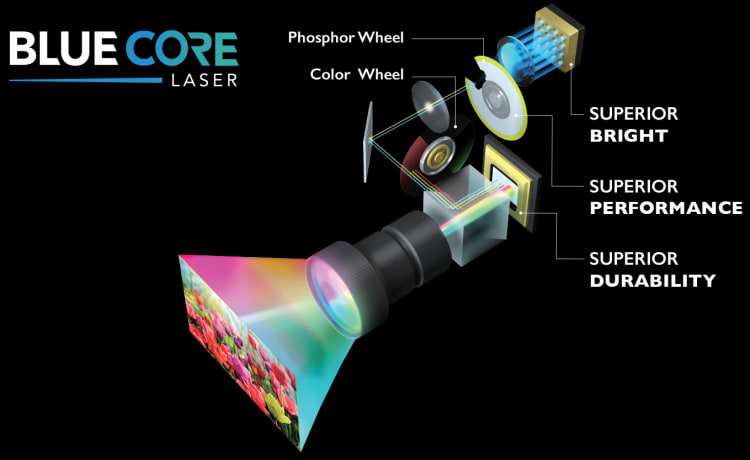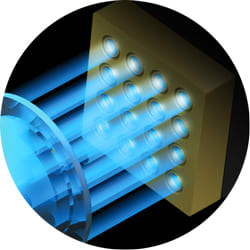 Superior Brightness
Precision-Aligned High-Output Laser Source
The zero-deviation alignment of BlueCore laser diodes boosts luminous flux into the light tunnel, improving light efficacy to 4,000 lumens.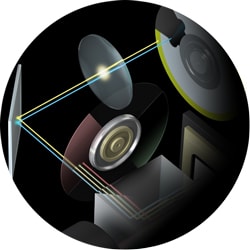 Superior Performance
Secondary Yellow-Infused Color Wheel
Dual synchronized BlueCore color wheels utilize an additive yellow segment, stimulating precise RGBY spectra for optimal chromatic performance.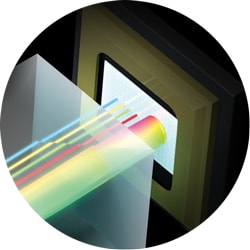 Superior Durability
Hermetically Sealed DLP Chip
Comprising over two million micromirrors that reflect pure light through the color wheel, the DLP chip is hermetically sealed to resist heat for over 20,000 hours without degradation.
Superior Image Quality
Dual Color Wheels Produce 92% Rec.709 Color Coverage for Optimal Color Performance
LU710's powerful BlueCore laser projection utilizes a dual color wheel system to produce an unparalleled color performance that achieves a 92% Rec.709 color coverage. By increasing color ratios and the purity of RGBY color, LU710 dramatically enhances color saturation to ensure superior presentation quality.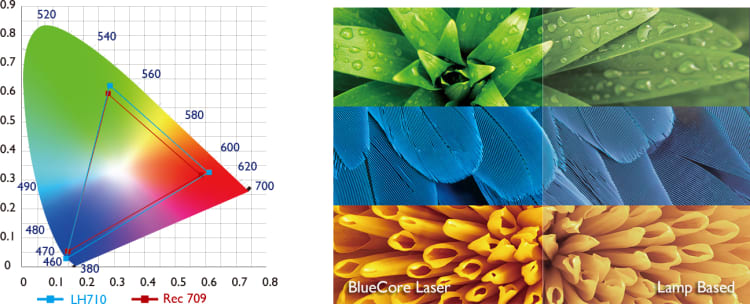 Advanced Infographic Mode for Supreme Presentation Quality
BenQ Infographic Mode perfectly fits the current corporate trend of mastering infographic-heavy presentations that all modern enterprises are striving for. Infographic Mode is great for showcasing the text and graphics of infographic in detail due to LU710's high brightness and better color gradation through the 92% Rec.709 color coverage, ensuring more saturated and lively color performance than presentation mode. Additionally, Video Mode, with BenQ enhancement technology, is designed for preserving dynamic color details when playing videos in a meeting room with ambient light.