Product Description
Nothing can beat the taste and aroma of freshly ground homemade chutneys, dosa and idly batter, or dry spices. The Philips HL1618/02 Mixer grinder with its lift and grind action blade, and 550W power consumption makes preparing delicious and healthy food at home as easy as pie.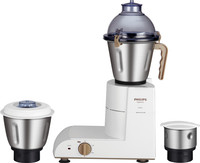 Jars and Accessories
This mixer grinder comes with a 0.3 L chutney jar, 1.5 L wet grinding jar and a 1.1 L multi-purpose jar to cover all your grinding-related needs. You are also provided with a spatula to help you take out the paste from inside the jars.
Revers Quadra Flow
Often, when we grind pesto or chutneys most of it sticks to the walls of the jars making the process a bit messy. Featuring the Revers Quadra Flow technology, the jars of this mixer grinder prevent food from sticking to their walls.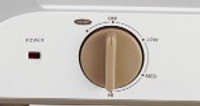 Performance
This Philips mixer grinder features one pulse and three speed settings to give you smooth results in seconds. It is also equipped with an automatic shut-off feature and a power indicator.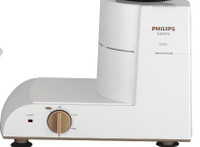 Design
Featuring a PP/ABS body, this mixer grinder is durable enough to last you for years to come. The stainless steel blades of this grinder will ensure that your job is done quickly and efficiently. Apart from that, the non-slip feet of this mixer grinder keep it in place while you are getting your work done.