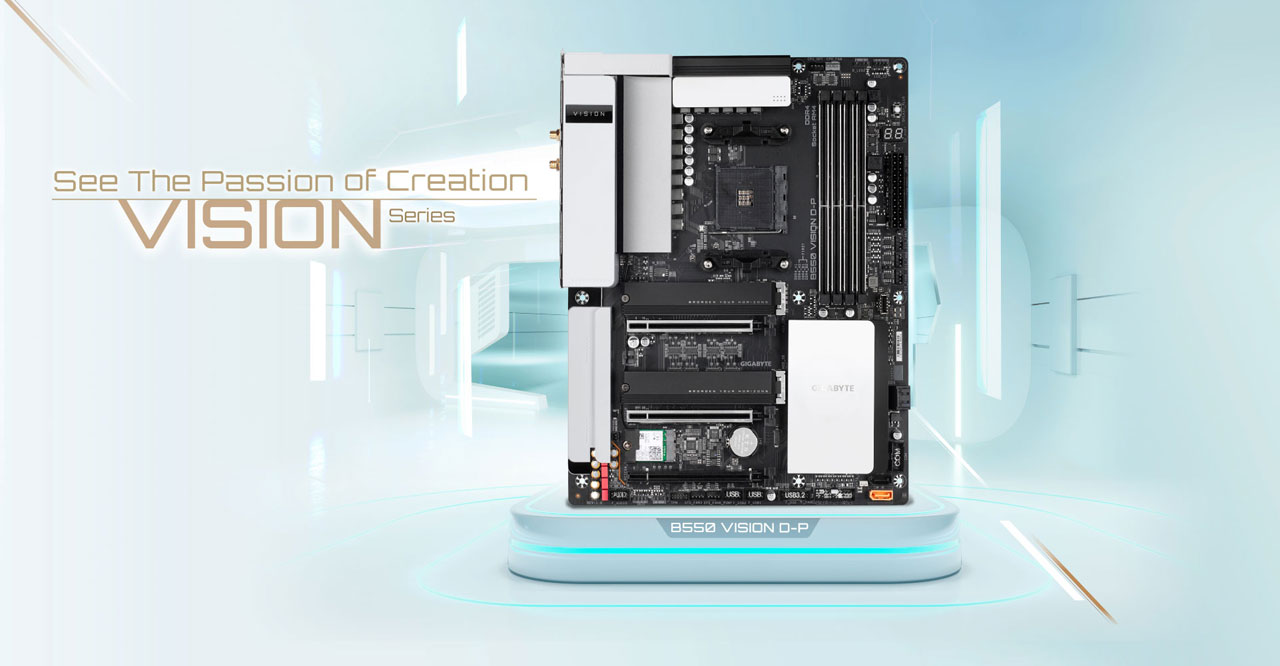 GIGABYTE B550 VISION D-P
Oriented for professional designing workloads, this board boasts reliable performance, ultra-fast storage, multi-GPU support, and next-gen connectivity including dual Thunderbolt 3, dual 2.5GbE LAN and PCIe 4.0. Stylishly designed heatsinks across VRM zone, chipset and M.2 serve both form and function. Along with acclaimed quality and durability the Gigabyte is known for, the B550 VISION D-P offers a solid foundation for DIY creators to build their own ideal machine.
ECC Memory
To protect against data corruption
Error Correction Code (ECC) memory corrects errors in your data as it passes in and out of memory to ensure reliability for critical applications.
* ECC Memory (ECC mode) support varies by CPU.
Multi-Card Support
Make Your Expandability Flexible
Multi-graphics configurations offer better graphics performance for applications which demand the highest frame rates without compromising on resolution.
* Actual support may vary by CPU.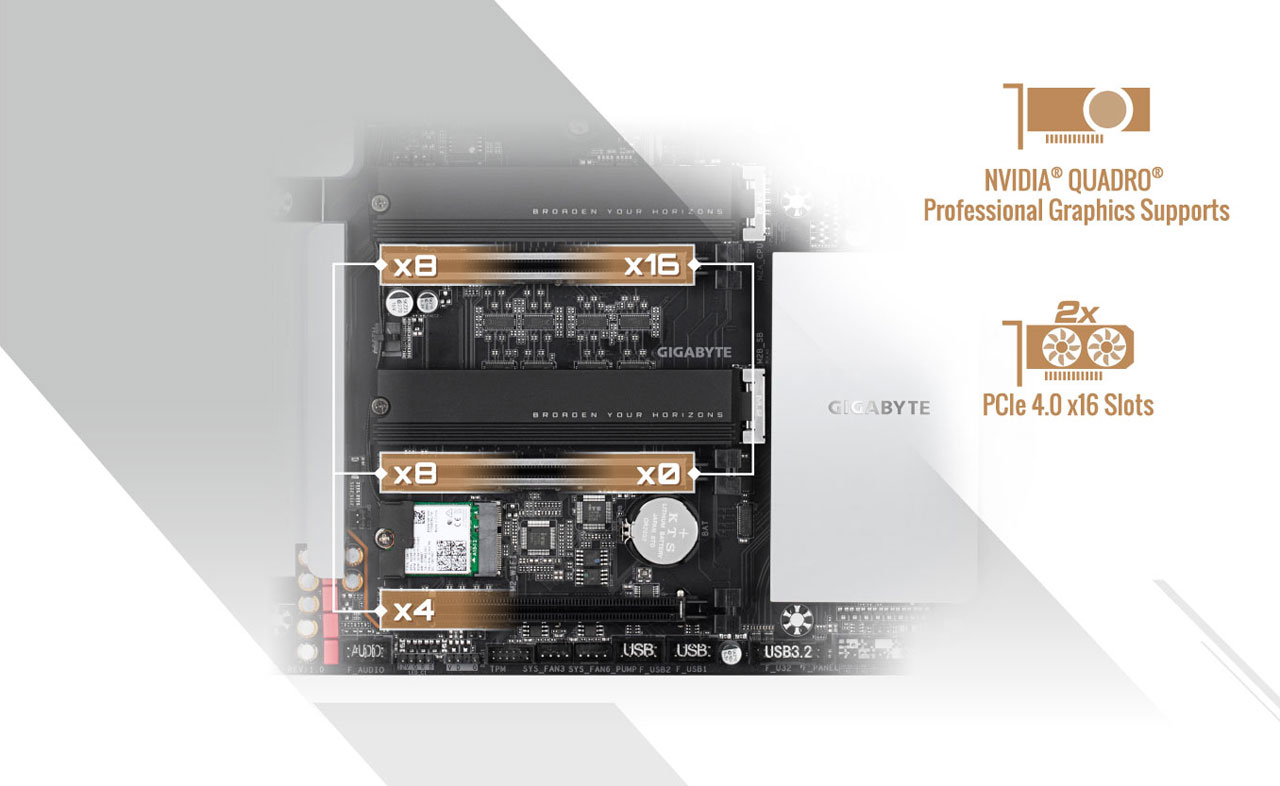 NVIDIA QUADRO Professional Graphics Supports
NVIDIA QUADRO 3D Workstation Professional Graphics Solutions are designed and built specifically for artists, designers, and engineers, NVIDIA Quadro GPUs power more than 100 professional applications across a broad range of industries. Professionals trust them to enable their best work using applications such as Adobe Creative Cloud, Avid Media Composer, Autodesk Suites, Dassault Systemes, CATIA and SOLIDWORKS, Siemens NX, PTC Creo, and many more.
AMD StoreMI Technology
GIGABYTE B550 motherboards maximize your PC's potential with AMD StoreMI technology. StoreMI accelerates traditional storage devices to reduce boot times and enhance the overall user experience. This easy-to-use utility combines the speed of SSDs with the high capacity of HDDs into a single drive, enhances the read/write speeds of the device to match that of SSDs, bolsters data performance for incredible value, and transforms the everyday PC to a performance driven system.
The benefits of AMD StoreMI:
Making the PC experience fast, smooth and easy
Optimizing computer responsiveness from system boot to application launch
Offering SSD performance with HDD capacity at an affordable cost
Quickly accessing key files by automatically learning users' computing behaviors
Thunderbolt 3
More Speed. More Pixels. More Possibilities.
Thunderbolt 3 is the single most advanced port available. It uses USB Type-C connectors and cables but as a single cable solution, creating one compact port that delivers the fastest connection to any dock display or data device. The only cable you need brings the limitless connectivity with you.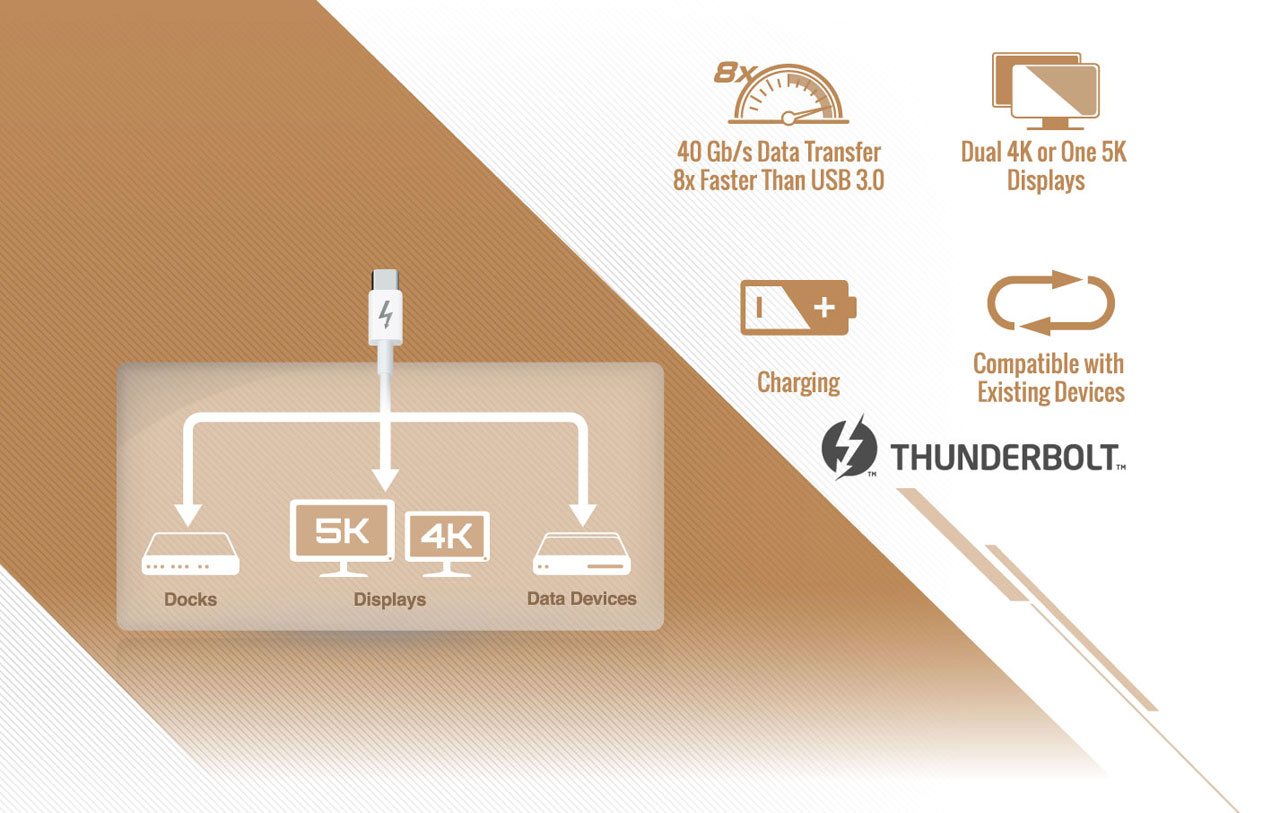 Daisy-chain Multiple Devices
GIGABYTE Thunderbolt motherboards allow users to daisy chain up to 12 devices simultaneously via an incredible bi-directional 40Gbps data pipeline that includes both PCIe and DisplayPort traffic. It redefines desktop PC connectivity to make it far easier to connect multiple high-speed storage devices and HD displays to your PC than ever before.
* Compatibility may vary according to system configuration and device specifications.

High-Bandwidth and Low-Latency Access-Layer
Dual 2.5GbE Connectivity
With both LAN ports designed, you'll benefit from increased bandwidth for speed, automated load balancing for smoother data flow, and instant failover if anything goes wrong. Adoption of dual 2.5G Ethernet provides an immediate boost to overall network performance, and greatly improves the bandwidth required for large file transfers, video editing, and professional workloads.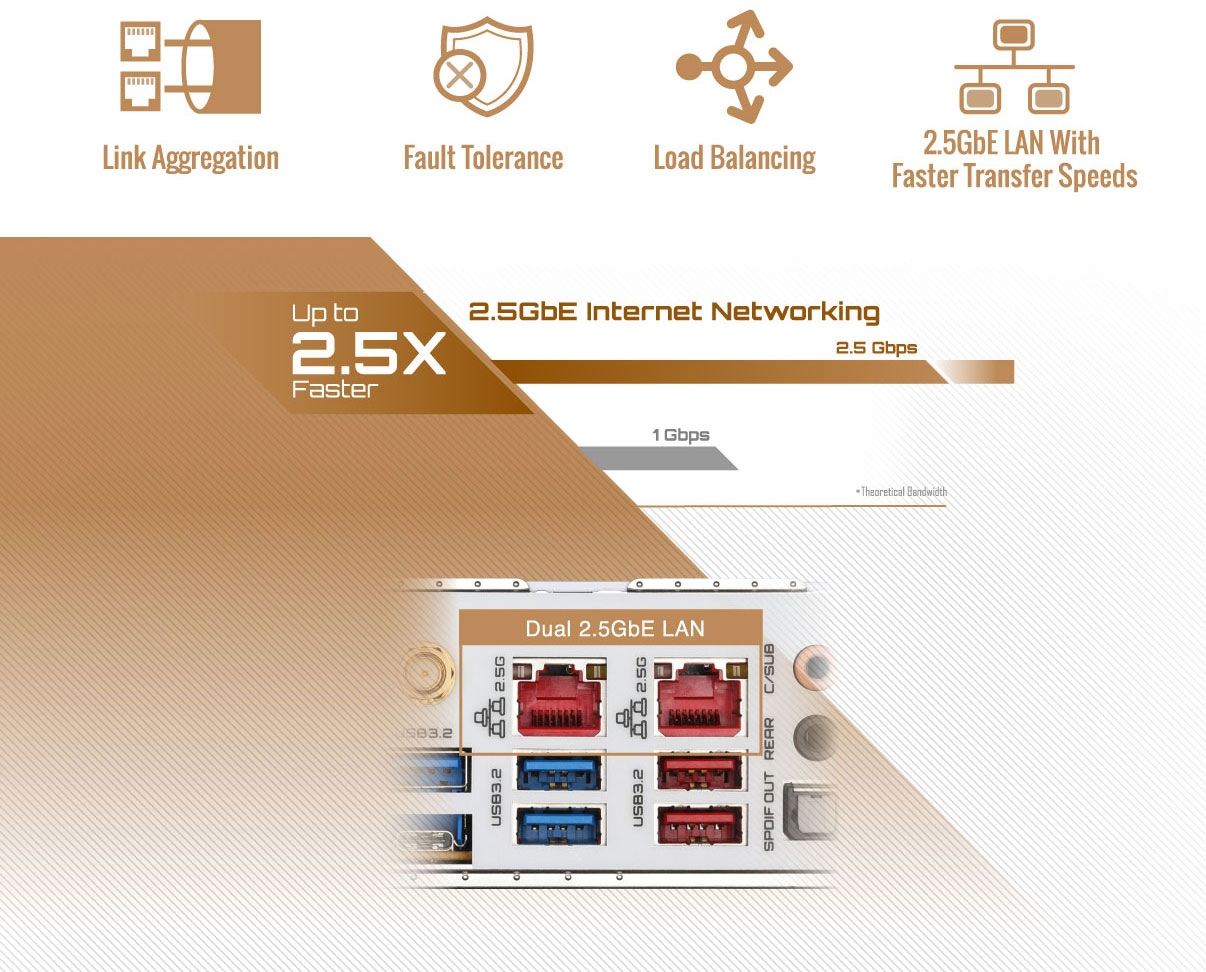 Intel Wi Fi 6 (Gig+)
Make latency a thing of the past
Intel Wireless solution supports 802.11ax, enables gigabit wireless performance, and provides smooth video streaming, better gaming experience, fewer dropped connections, and speeds up to 2.4Gbps*.
Wi-Fi 6 is designed to improve speed, increase efficiency, and reduce congestion in heavy bandwidth usage scenarios.
SuperSpeed USB 3.2
No Hassle Connection
The back panel of B550 VISION D-P features with USB 3.2 Gen2 ports design, which is twice the bandwidth compared to its previous. Be enjoying ultimate connection flexibility and brilliant transfer speeds of up to 10Gbps.
Front-panel header with USB 3.2 Gen1 connectivity is ready for compatible devices.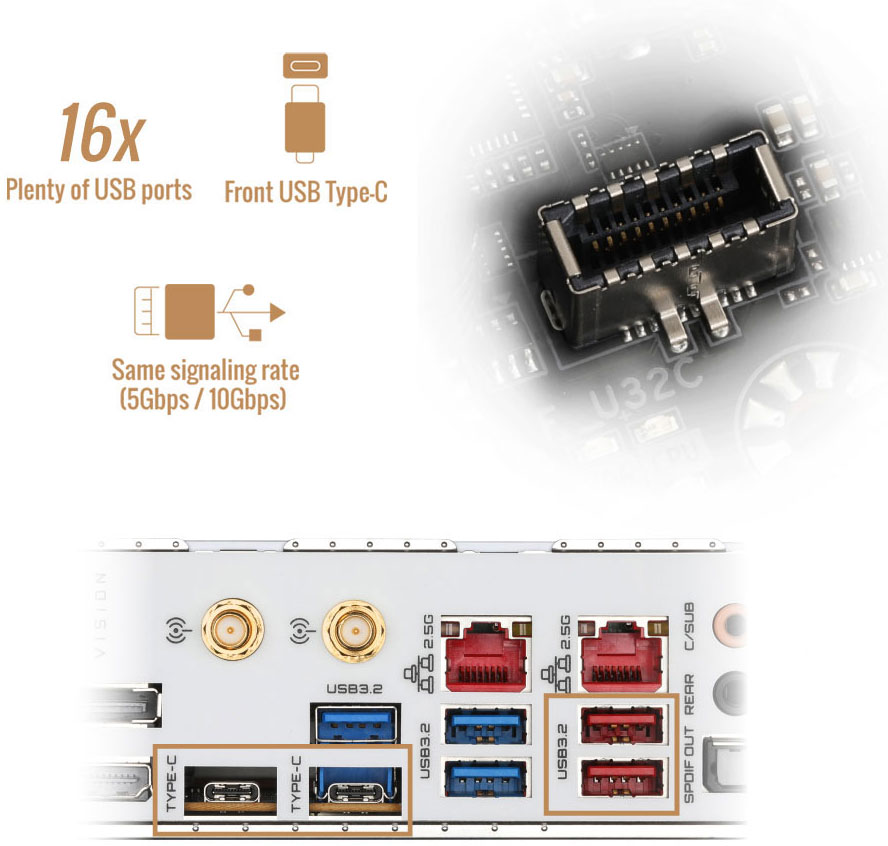 Cooling Technology
Effective cooling solution is essential for a heavy design workload to get away with slow down, crashes, and unexpected shutdown.
Unconventional Heatsinks is designed for better thermal dissipation but also aesthetically appealing to creators. Iconic curved heatsink covers the hottest VRM area to ensure efficient power delivery for stable performance. Creators transfer larger file with un-throttled storage performance by efficient M.2 heatsinks.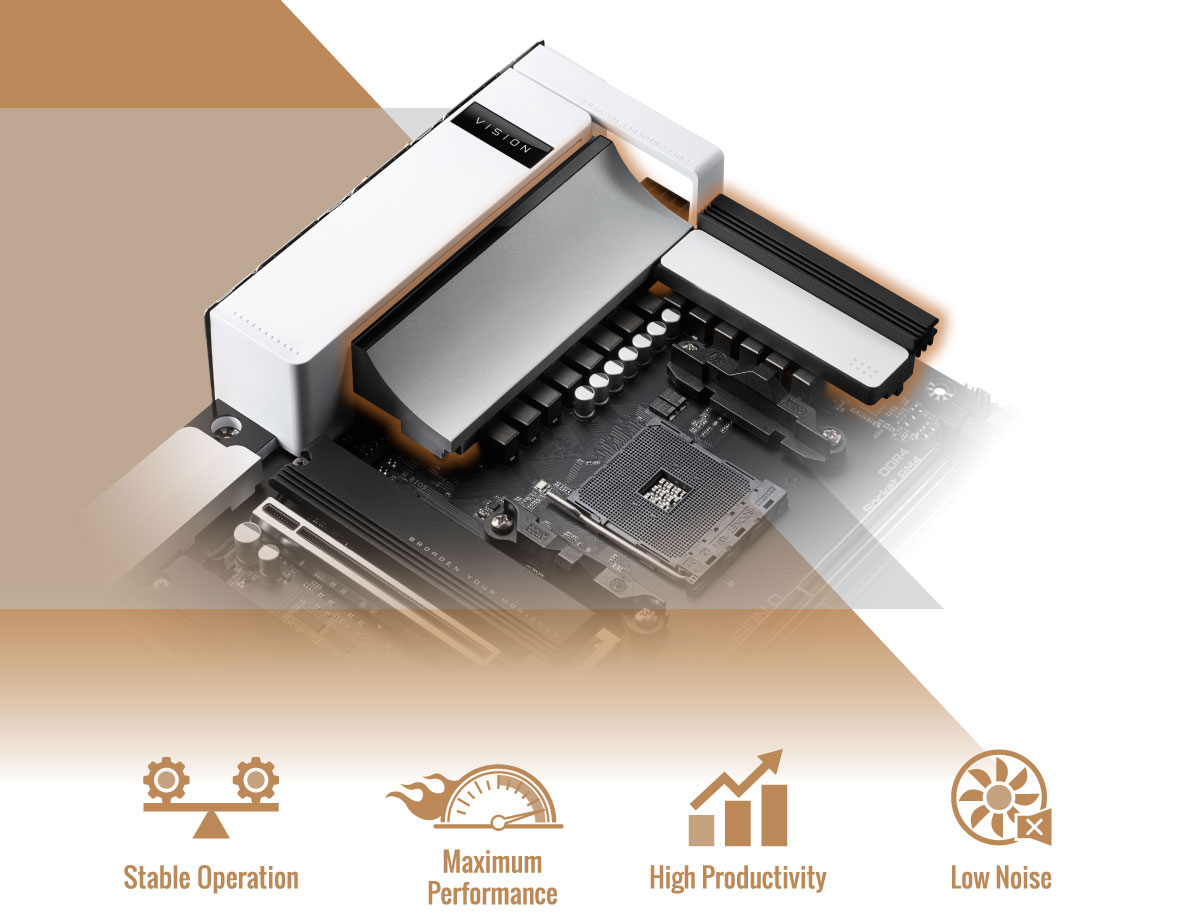 Smart Fan 5
Eight hybrid fan headers and numerous temperature sensors are planted on the motherboard to monitor in real time and configure fan mode to fit different workloads via Smart Fan 5. Creators are allowed to set the trigger point to activate the fan and its corresponding speed. The fan completely stops when performing light tasks to avoid noise.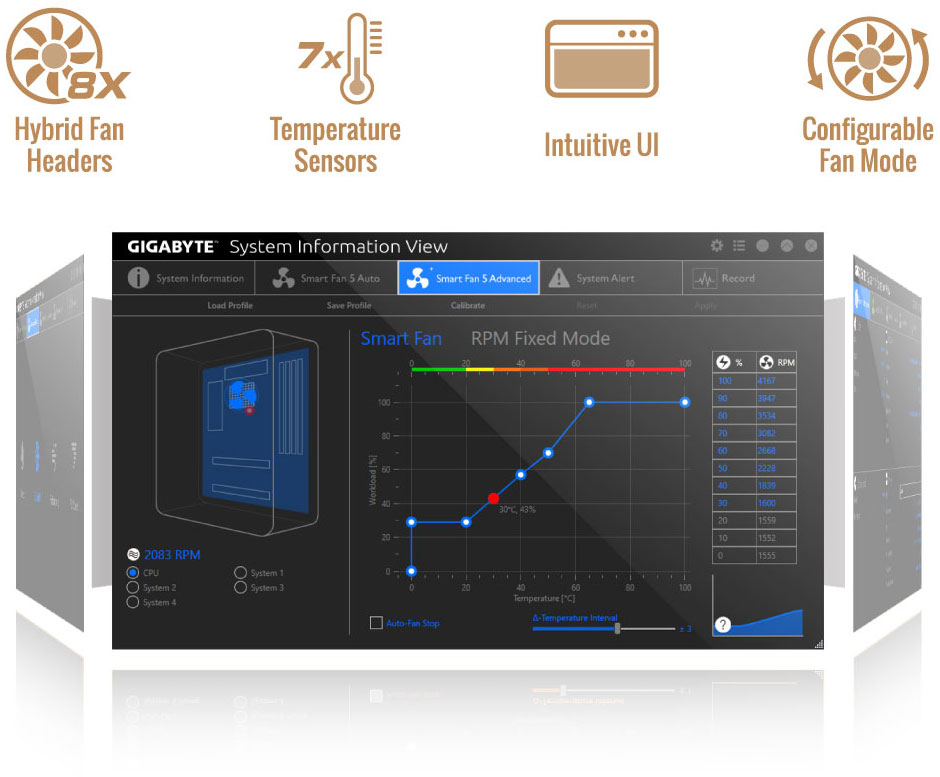 PCI Express 4.0 Hardware Design*
For most prosumers and content creators, high bandwidth storage and high performance graphics card or accelerator cards are critical for their projects. This is especially true for 3D rendering and creating high resolution textures. To support most cutting edge devices, this motherboard uses the groundbreaking PCIe 4.0 hardware design.
From PCB, several new IC to device connectors, everything that the PCIe 4.0 signal goes is a completely new generation, to make sure your content creation PC is future proof.
1.PCIe 4.0 M.2 Connector
Supports new PCIe 4.0* M.2 SSD
2.PCIe 4.0 Components
New generation components ensure full compliance with PCIe 4.0
3.PCIe 4.0 x16 Slots
Supports new PCIe 4.0* graphics card and accelerator card.
* Actual support may vary by CPU.
Product uses PCIe 4.0 grade material. Actual support varies by hardware configuration.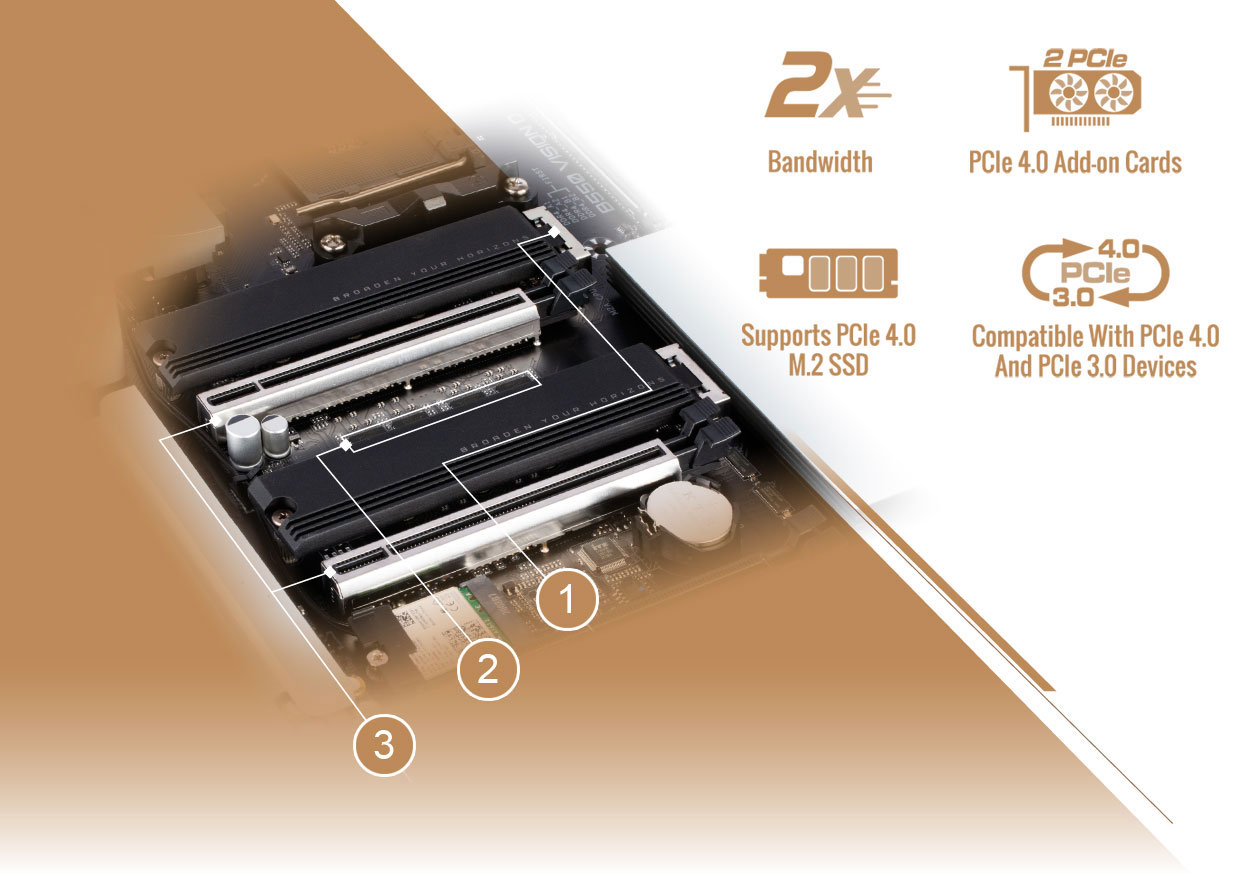 PCIe Bandwidth*
Up to 31.5GB/s from new PCIe 4.0 x16 slot designs for the next generation add on cards that need tremendous bandwidth, including the graphics card, deep learning accelerator card, and the video capture card.

SSD read speed
Content creators' workflows constantly involve huge files, such as images, videos, and 3D models. Time for editing, saving, and transferring those huge files can be substantially reduced with the new generation PCIe 4.0 SSD.

PCIe M.2
Faster Speed. More Space.
M.2 Drives keep the load times away. Breaking the barriers of SATA limitations. M.2 PCIe SSD gives you X7 faster data transferring experience compared to 2.5″ SATA solid state drives.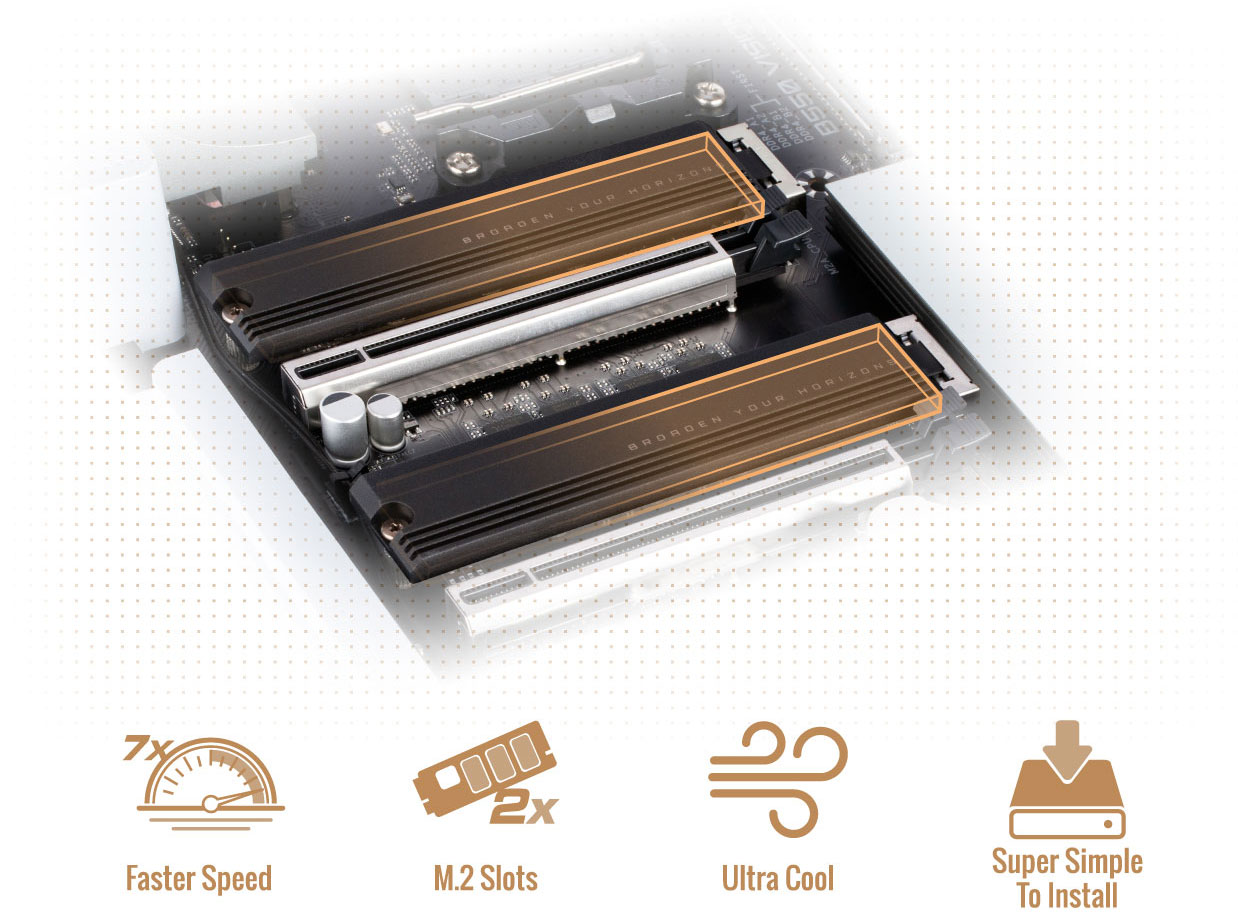 Dual NVMe PCIe x4 M.2
M.2 is the latest storage technology. GIGABYTE M.2 solution offers considerably faster storage performance and provides an ideal storage with RAID modes. To feature PCIe 4.0*/3.0 x4 and PCIe 3.0 x4 M.2 connectors for offering the best compatibility in terms of NVMe storage for creators who demand high capacity and seek the best performance.
M.2 Ultra Cool
With durability in mind, GIGABYTE provides a thermal solution for M.2 drives. This unique M.2 Thermal Guard prevents throttling and bottlenecks from M.2 devices as it helps to reduce and dissipate heat before it becomes an issue.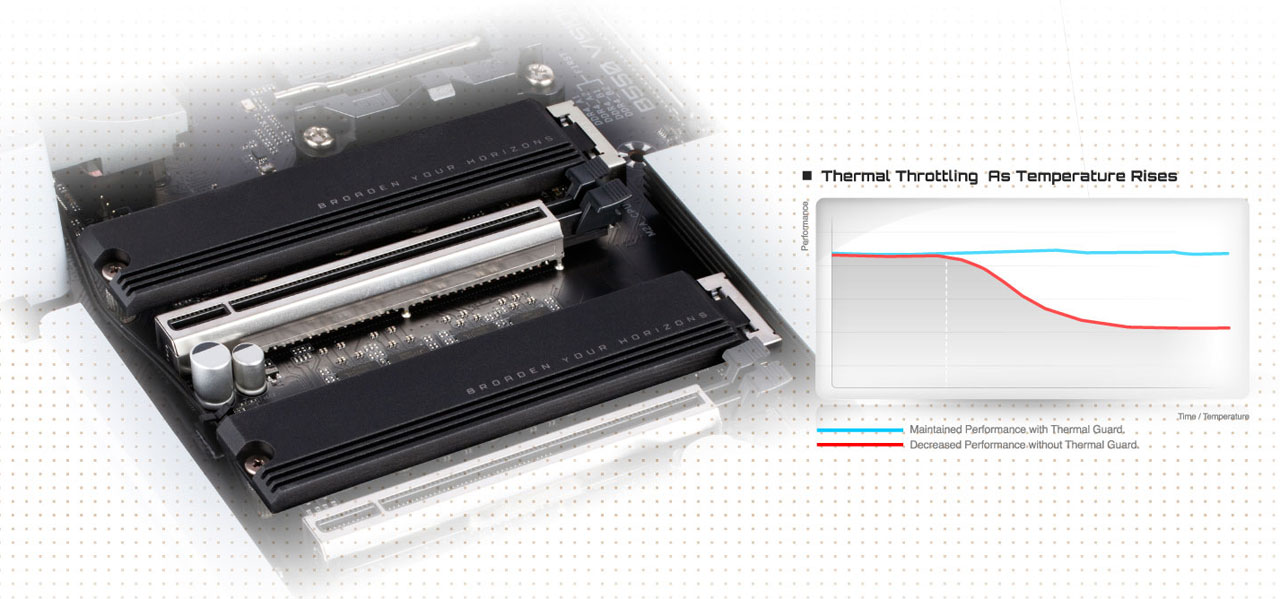 DTS:X Ultra
Immersive sounds to go
DTS:X Ultra is capable of delivering consumers a truly premium entertainment experience by completely surrounding the listener and expanding the sound stage to create a more immersive environment. Supports channel-based, scene based, and object-based audio. Also, it takes movies, music, and interactive gaming experiences to an exciting new level.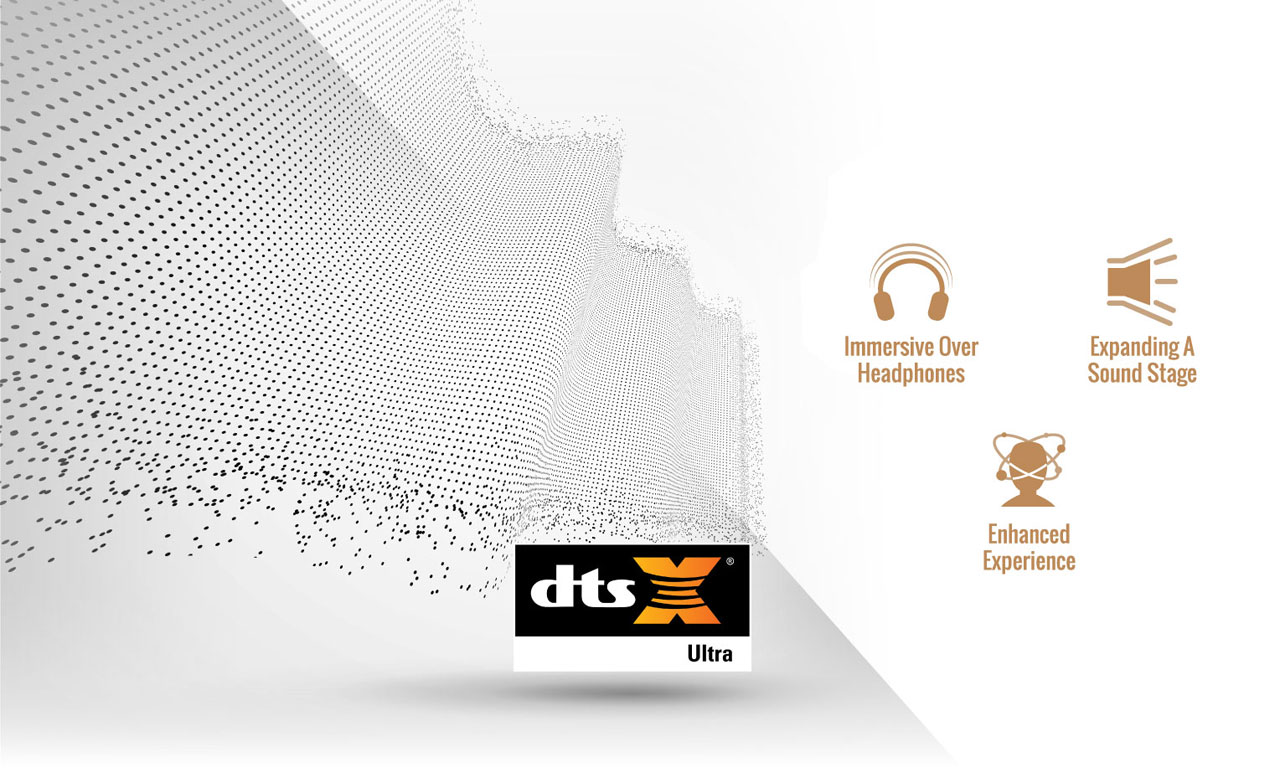 KEY FEATURES
AMD B550 Creators Motherboard with Intel Thunderbolt 3 certification, effective cooling solution, DDR4 ECC & Non-ECC memory, Intel Wi-Fi 6 802.11ax and dual 2.5GbE LAN, Triple PCIe 4.0/3.0 x16 slots, and Dual PCIe 4.0/3.0 M.2 Connectors

Supports AMD Ryzen 5000 Series / 3rd Gen Ryzen and 3rd Gen Ryzen with Radeon Graphics Processors
Reliability ensured by DDR4 ECC & Non-ECC memory with 4 physical DIMM slots
Multi-graphics configurations offered by dual PCIe 4.0/3.0 x16 and one PCIe 3.0 x16 slots
Fully Quadro QVL Tested
The limitless connectivity by Thunderbolt 3
High-bandwidth and low-latency network support by dual 2.5GbE Ethernet
Intel Wi-Fi 6 802.11ax makes latency a thing of the past
Effective cooling solution design for the better thermal dissipation
Smart Fan 5 features hybrid fan headers and numerous temperature sensors for fan mode configuration
Ultra-Fast NVMe PCIe 4.0/3.0 x4 and PCIe 3.0 x4 interface M.2 connectors with Thermal Guards
Comprehensive connectivity with USB3.2 Gen 2 Type-A and Type-C connection
Q-Flash Plus Updates BIOS without Installing CPU, Memory and Graphics Card